No Other IT Consulting Firm In Niagara Can Touch Our Lightning Fast Response, Customer Service, Or Ability To Deliver Technology Solutions That Work EXACTLY The Way You Want Them To.
Read On To See How We Can Make This A Reality For YOU…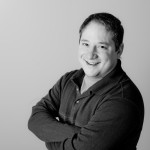 My Fellow Colleagues,
If you are a business owner or office manager that is plagued with ongoing computer problems but don't know who you can trust to fix them fast, fix them right, and make everything just plain WORK the way it's supposed to, I have the solution you have been looking for.
My name is Bryan Lachapelle, owner of B4 Networks Inc. What makes us unique is that we guarantee to make technology EASY for you – that includes guaranteeing 60-minute or less response times for critical outages; owning problems instead of blaming your ISP, software vendor or other outside problem; and guaranteeing your complete satisfaction with our old-fashioned customer service.
Although this isn't an amazing concept, I'm amazed at how many IT firms don't get this right. And if you're currently at your wits' end about your current IT person because they never seem to get everything working…are totally unreliable about responding to problems…don't follow through on their promises…don't take ownership of problems when they arise…and overall provide really shabby service, we can help. In addition to solving these issues, we can also show you how to:
Eliminate costly downtime, chronic problems, slowness and other computer headaches with our SmartIT service. How do we do this? By proactively maintaining the health and security of your network with 24/7 monitoring and maintenance. In fact, we guarantee that you will have less than a few hours of downtime the entire YEAR due to a problem we should have caught under our watch – just try to get your average 'computer guru' to make that kind of promise!
Gain complete peace of mind that your network is 100% secured and backed up properly so IF you were to experience a major disaster of some kind, we could have you back up and running again within 24 hours or less. And we don't just say that, we guarantee it.
Ultimately, this means you and your staff will no longer have to waste time or money on aggravating computer problems, period.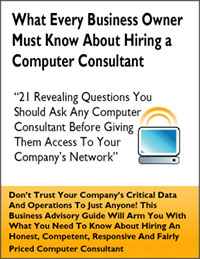 To help you get to know us better, I'd like to send you our FREE Business Advisory Guide titled, "What Every Business Owner Must Know About Hiring An Honest, Competent Responsive, And Fairly-Priced Computer Consultant." This free guide will arm you with 18 revealing questions you should ask any computer consultant before giving them access to your company's network, as well as:
The "dirty little secret" of the computer repair industry that most people don't know and will NEVER be told by their current IT guy. (Knowing this alone could save you from wasting tons of money and untold aggravation when outsourcing your computer support.)
How to spot an unethical or grossly incompetent computer repair/support technician in minutes.
4 costly misconceptions business owners have about computer maintenance and repair; one you will need to know BEFORE you talk to anyone on the phone.
4 mistakes to avoid when choosing a computer consultant.
Even if you aren't ready to outsource your IT support or make a change from who you are using now, this report will give you the right information and questions to ask when the time comes. And if you have a sneaking suspicion that your current IT person is not delivering the level of service and support you need, it will quickly help you determine if your suspicions are correct – AND what you can do about it.
To claim your free copy of this report fill in the form to the left so we can send it to you. If you would prefer your report mailed out to via Canada Post, please indicate so and we will be happy to mail it out.
Dedicated to serving you,

Need to speak to someone right away? Call us at 905-228-4809.
P.S. Along with the guide I'll include a certificate that will entitle you to a FREE Network Health Check ($397 Value). If you'd like to know for sure that your network IS secure and that you could be back up and running fast in the event of a disaster, this checkup will be the validation you are looking for. Please note that we can only give away a few of these each month, so please response as soon as possible.