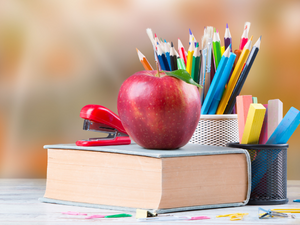 In the coming weeks, kids from around the country will return to school to continue their academic journey. It's an exciting time in their lives, and many begin the school year with high hopes and expectations. Do you remember how enthusiastic (or disappointed) you were when the first day of a new school year arrived? Now that we're parents, we can put specific strategies and techniques in place to help our children find success when school resumes.
It's interesting to see how much has changed since many of us were in school, especially from a technological standpoint. Nearly every kid starts middle school with a smartphone, tablet and laptop. While this has provided them with access to more information and opportunities, there are things that parents should do to keep their children protected and out of trouble.
If you have a kid returning to school next month, try utilizing some of the following strategies to help your child start the year strong. You may even help yourself along the way!
Create Guidelines
Electronic devices like smartphones, tablets and video game consoles can be fun for kids but can also be distracting. You shouldn't want your children to be on screens all day, as it can damage their mental health. There's no onesize-fits-all approach to screen time, so you must determine what works best for your situation.
The Canadian Paediatric Society reports that, on average, 36 percent of 10- to 13-year-olds spending three hours or more a day on digital devices unrelated to schoolwork and 20 percent of high schoolers logging more than five hours a day on social media alone. Getting your kids to use their screens less can be difficult if they're already watching for multiple hours a day, but it's necessary in helping their development. Set specific hours they can use their screens for personal use or make them log the time when using their devices. If you're worried they won't be honest about their screen use, create a rule that they can only use the devices in public areas of the house, not their room. Put guidelines in place as soon as possible. If you wait until school starts, you will be looking at an argument and further disruption to their studies.
Monitor What They're Doing And Set Website Restrictions
Does your child do their homework on a computer? If so, how do you know they're actually working on their homework? Keep a watchful eye on your children when they're using their devices to ensure they're using them properly. They may trick you to get a few more minutes of screen time. Continually check on them while they're using a screen to do their homework, and don't be afraid to take a closer look.
You should also look into setting up website restrictions on your network. You don't want your child stumbling upon an inappropriate website, and you don't want them on an unsecured website that could put your network and personal information at risk. Set up website restrictions through your network and each device to ensure your child doesn't go where they shouldn't be.
Talk With Them About The Dangers Of Social Media
If your child doesn't have one already, at some point they will create a social media account so they can stay up-to-date with everything going on with their friends and family. Social media can be harmless when used cautiously; you must explain that to your children. Let them know other people can see everything they post, so they need to think carefully before posting anything, especially pictures. As a best practice, turn off all social media applications' geolocation and messaging features. That way, your child won't receive message requests from strangers or inform strangers of their location.
If you have a social media account, you should also be cautious about your posts. Your child will look at your account for direction, and if you post questionable content, there will be some confusion. It might even cause them to ignore your rules.
The start of a new school year is an exciting time in your child's life. You can help set them up for even greater success by implementing a few tech strategies to help them focus and keep them out of trouble!
Contact Us
If you do not currently have an I.T. provider or would like a second opinion on your network security, please don't hesitate to reach out to our team. We are here to serve you in the Niagara Region and Simcoe County, 24/7/365.
Niagara: 905-228-4809
Barrie: 705-885-0993
Email: help@b4networks.ca