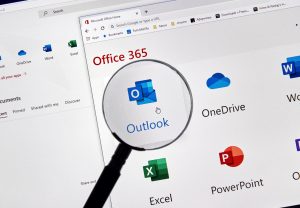 If not, you need to be aware of this one because it's a huge threat. If your business uses Microsoft Outlook for Windows, (Other versions of Outlook such as Android, iOS, Mac as well as Outlook on the web & other M365 services are not affected) there is a very real possibility that you are vulnerable to hackers RIGHT NOW! Please don't wait for this threat to "blow over" or assume because your business is too small you aren't vulnerable to a cyber-attack. Every. Single. Version of Microsoft Outlook for Windows is affected. This is very different from other attacks in that you don't even have to interact with the email attack to be affected! Here's a description from Microsoft themselves...
"CVE-2023-23397 is a critical EoP vulnerability in Microsoft Outlook that is triggered when an attacker sends a message with an extended MAPI property with a UNC path to an SMB (TCP 445) share on a threat actor-controlled server. No user interaction is required. The threat actor is using a connection to the remote SMB server sends the user's NTLM negotiation message, which the attacker can then relay for authentication against other systems that support NTLM authentication." It's a lot of words to say that it is a very stealthy way for them to access your data and impersonate you.
If you are a managed client of B4 Networks, rest assured you are safe, and the vulnerability (CVE-2023-23397) is being rectified. If you do not currently have an I.T. provider or would like a second opinion on your network security, please don't hesitate to reach out to our team. We are here to serve you in the Niagara Region and Simcoe County, 24/7/365.
Niagara: 905-228-4809
Barrie: 705-885-0993
Email: help@b4networks.ca